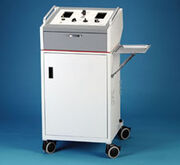 About
Systems that provide a safe and efficient means for the delivery and/or disposal of xenon radioisotopes (typically Xe 133, but Xe 127 is also used). These systems usually include a xenon-delivery unit, a gas trap, carbon dioxide absorbers, and bacteria filters placed in the mouthpiece. Xenon-delivery systems are mostly used in pulmonary function studies; when xenon is inhaled, a gamma camera produces images of the lungs showing regional ventilation and displaying the distribution of air intake. Xenon-delivery systems are also used during xenon-enhanced computed tomography and dynamic single-photon-emission computed tomography (CT and SPECT respectively) studies. Typically cound in nuclear medicine departments.
Manufacturers
Biodex

Models
Pulmonex II
Second Source Parts
Second Source Service
References
Ad blocker interference detected!
Wikia is a free-to-use site that makes money from advertising. We have a modified experience for viewers using ad blockers

Wikia is not accessible if you've made further modifications. Remove the custom ad blocker rule(s) and the page will load as expected.