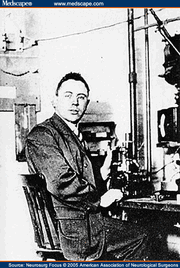 About
Dr. William T. Bovie, who was born on September 11, 1882 in Augusta, Michigan. Dr. Bovie received his PhD from Harvard and worked there from 1914-1927. Bovie, along with Neuro-surgeon, Harvey W. Cushing, M.D., is credited with inventing the electrosurgical unit to be known today as the "Bovie".
The first use of the Bovie electrosurgical generator in an operating room was on October 1, 1926, at Peter Bent Brigham Hospital in Boston, Massachusetts. A few days earlier (September 28, 1926) Dr. Cushing had been unsuccessful in removing a mass from a patient's head due to its highly vascular nature. In Dr. Cushing's notes from October 1st.... "with Dr. Bovie's help I proceeded to take off most satisfactorily the remaining portion of tumor with practically none of the bleeding which was occasioned in the preceding operation."
Over seventy five years later, Aaron Medical continues to improve the work of Dr. Bovie. The work continues today, but our sincere thanks go out to Dr. Cushing and William T. Bovie for their incredible invention.
Reference
Links
Ad blocker interference detected!
Wikia is a free-to-use site that makes money from advertising. We have a modified experience for viewers using ad blockers

Wikia is not accessible if you've made further modifications. Remove the custom ad blocker rule(s) and the page will load as expected.