Welch Allyn
Talk

0
1,607pages on
this wiki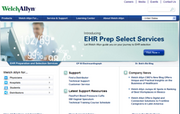 Welch Allyn we specialize in helping doctors, nurses, and other healthcare providers across the globe provide the best patient care by developing innovative products, breakthrough technologies, and cutting-edge solutions that help them see more patients, detect more conditions, and improve more lives. We have been a leader in the healthcare industry since our humble start in 1915; we set medical industry standards in the 1920's, we were the first to use fiber optics in medical instruments in the 1960's, and our innovation continues in the 21st century.
Designed as a single-use stethoscope for situations where contamination issues are of concern, the Welch Allyn Uniscope disposable stethoscope enables you to make accurate diagnoses without compromising your primary stethoscope.

Harvey™ Elite® Stethoscope
The Harvey Elite offers updated styling along with the superior comfort and auscultation capabilities that cardiologists have come to relay on. It is equipped with dual-bore, latex-free tubing that creates two uninterrupted sounds channels and works with the optimally weighted, rugged, and stainless steel chestpieces. In addition, the Elite's diaphragm is designed to accentuate important sounds - all this enables you to hear cardiac, pulmonary and vascular sounds.
Welch Allyn Inc.
Corporate Headquarters
4341 State Street Road
Skaneateles Falls, NY 13153-0220 USA
Tel: 1 800 535 6663
Fax: 315 685 4091

Second Sources Parts
Edit
Second Sources Services
Edit
http://www.welchallyn.com/about/default.htm
Welch Allyn Stethoscope Training Courses - online, free training for heart sounds and lung sounds