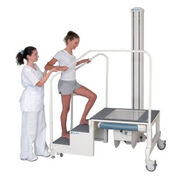 About
Intended to be used in conjunction with a radiographic system that utilizes a tilting wall stand. It allows the technologist to easily and quickly position the stand over the digital receptor for standing AP feet exams.
Manufacturers
Quantum Medical Imaging
Spencer Manufacturing
References
Links
Ad blocker interference detected!
Wikia is a free-to-use site that makes money from advertising. We have a modified experience for viewers using ad blockers

Wikia is not accessible if you've made further modifications. Remove the custom ad blocker rule(s) and the page will load as expected.