About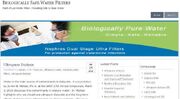 Water is the main source of contaminants in dialysate. A presentation by Jo-Ann B. Maltais, Ph. D. at the NANT 27th Annual Symposium, March 3, 2010 discusses the contaminants in dialysis water. Dr. Maltais highlights why we should use ultrapure dialysate and the long-term effects of chronic micro-inflammation on dialysis patients. She gives evidence to support improved clinical outcomes using ultrapure dialysate.
The presentation also provides guidance for technicians regarding what systems can be used and how to validate them. The Nephros DSU has an FDA 510K. The .005 micron ultrafilter makes it a cost-effective component in the process to achieve ultrapure dialysis.
Website
Ad blocker interference detected!
Wikia is a free-to-use site that makes money from advertising. We have a modified experience for viewers using ad blockers

Wikia is not accessible if you've made further modifications. Remove the custom ad blocker rule(s) and the page will load as expected.