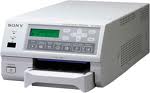 About
Video Printers are used to produce a permanent, color text or graphic copy (i.e., hard copy) on paper or other appropriate media (e.g., transparent film) from video data stored in a recorder or displayed by a monitor. These printers typically use a thermal transfer technology (e.g., thermal dye transfer, also known as dye sublimation) to produce a hard copy with a great variety of color tones on a dedicated film; the printers may include a digitizer (also known as a frame grabber) to convert signals from analog video sources. Color video printers are used in healthcare facilities for documentation of imaging procedures (e.g., endoscopic, ultrasound, nuclear medicine), as well as to produce images for patient files; video printers are not normally intended to produce images for diagnostic purposes.
Manufacturers
Sony

Models
SONY UPD-C21X

Second Source Parts
Second Source Service
References
Ad blocker interference detected!
Wikia is a free-to-use site that makes money from advertising. We have a modified experience for viewers using ad blockers

Wikia is not accessible if you've made further modifications. Remove the custom ad blocker rule(s) and the page will load as expected.