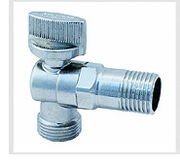 About
Angle Valves are important industrial fittings, deriving their name from the the 90º configuration of inlet and outlet ports. Metallic angle valves in material such as stainless steel, bronze, brass are used for cryogenic applications requiring extreme temperatures, ranging from 450º to -250ºC. High quality of materials used and workmanship ensure longevity and trouble-free service of these valves.
Reference
Link
Ad blocker interference detected!
Wikia is a free-to-use site that makes money from advertising. We have a modified experience for viewers using ad blockers

Wikia is not accessible if you've made further modifications. Remove the custom ad blocker rule(s) and the page will load as expected.