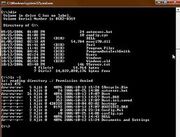 About
Unix (officially trademarked as UNIX, sometimes also written as Unix with small caps) is a "open-source" computer operating system originally developed in 1969 by a group of AT&T employees at Bell Labs, including Ken Thompson, Dennis Ritchie, Brian Kernighan, Douglas McIlroy, and Joe Ossanna. Today's Unix systems are split into various branches, developed over time by AT&T as well as various commercial vendors and non-profit organizations.
The Open Group, an industry standards consortium, owns the "Unix" trademark. Only systems fully compliant with and certified according to the Single UNIX Specification are qualified to use the trademark; others may be called "Unix system-like" or "Unix-like" (though the Open Group disapproves of this term). However, the term "Unix" is often used informally to denote any operating system that closely resembles the trademarked system.
During the late 1970s and early 1980s, the influence of Unix in academic circles led to large-scale adoption of Unix (particularly of the BSD variant, originating from the University of California, Berkeley) by commercial start-ups. Today, in addition to certified Unix systems such as those already mentioned, Unix-like operating systems such as Linux and BSD descendants are commonly encountered. The term "traditional Unix" may be used to describe a Unix or an operating system that has the characteristics of either Version 7 Unix or UNIX System V.
Products/Services
FreeBSD
NetBSD
OpenBSD
Solaris
HP-UX
AIX
References
Links
Ad blocker interference detected!
Wikia is a free-to-use site that makes money from advertising. We have a modified experience for viewers using ad blockers

Wikia is not accessible if you've made further modifications. Remove the custom ad blocker rule(s) and the page will load as expected.