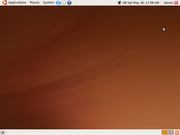 About
Ubuntu (pronounced /u'bun.tu/, or "oo-boon-too"), is a free Debian-derived computer operating system based on GNU/Linux. Ubuntu's goals include providing an up-to-date, stable operating system for the average user, with a strong focus on usability and ease-of-installation. Ubuntu has been selected by readers of desktoplinux.com as the most popular Linux distribution for the desktop, claiming approximately 30% of their desktop installations in both 2006 and 2007.
Links
Video
Ad blocker interference detected!
Wikia is a free-to-use site that makes money from advertising. We have a modified experience for viewers using ad blockers

Wikia is not accessible if you've made further modifications. Remove the custom ad blocker rule(s) and the page will load as expected.