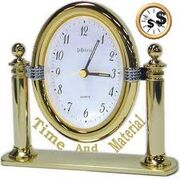 About
Time & materials is a service performed and paid for on the basis of the OEMs or ISOs costs of labor, parts and supplies, and travel time. [1] The services delivered to the organization has a fixed billing rate but variable billing times.
For example, my billing rate is $800 US per day. I, the OEM/ISO service contractor, will deliver a service that your organization needs, stating in a contract that this will take 2-4 days, and that this is a time & material service contract. The organizations total bill for time & materiel will be $1600 - $3200 US, usually based on how much time was spent. Within the clinical engineering community, the terms "demand service" and "parts and labor service" are sometimes used to refer what is called time & materiel's.
Links
References
Ad blocker interference detected!
Wikia is a free-to-use site that makes money from advertising. We have a modified experience for viewers using ad blockers

Wikia is not accessible if you've made further modifications. Remove the custom ad blocker rule(s) and the page will load as expected.