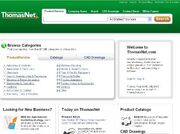 About
ThomasNet is a search engine used to find manufacturers, distributors and service providers from Actuators to Zirconium and everything in between. ThomasNet provides direct access to the detailed information needed to make a purchasing or specifying decision, including line-item product details, CAD drawings, and more. ThomasNet is brought to you by Thomas Industrial Networksm, a wholly owned subsidiary of Thomas Publishing Company. Thomas has been connecting industrial buyers and suppliers for over 100 years.
Products/Services
Here you list the equipment or services they provide:
Adhesives & Sealants
Automation & Electronics
Calibration Services
Chemicals
Custom Manufacturing & Fabricating
Electrical & Power Generation
Engineering & Consulting
Hardware
Instruments & Controls
Machinery, Tools & Supplies
Plastics & rubber
Process Equipment
Pumps, Valves, & Accessories
Services
Special & Custom Machinery, Bearings, Gears, Brushes, Springs, more...
Contact
Searching ThomasNet
E-Mail: UserServices@ThomasNet.com
Telephone: 1-800-699-9822
Address: ThomasNet
User Services Department
5 Penn Plaza
New York, NY 10001

Links
Ad blocker interference detected!
Wikia is a free-to-use site that makes money from advertising. We have a modified experience for viewers using ad blockers

Wikia is not accessible if you've made further modifications. Remove the custom ad blocker rule(s) and the page will load as expected.