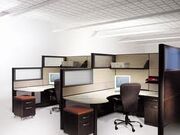 About
Space utilization is the process to determine space requirements and measure the viability of existing or proposed alternatives of a valuable commodity known as "space" or office areas. A space utilization committee is made up of key players such as department heads and the facility manager to determine new and existing space requirements. As a clinical engineer or BMET this is the meeting you should attend to discuss your office area requirements such as not enough space or proposed storage areas, etc. It is this authors recommendation that you go prepared and always "Look Before You Leap" - never go into this meeting without a strong need assessment and valid justification as to why your department requires more space.
Some maximizing space efficient techniques used are:
converting paper to paperless (i.e. scanning technical literate, files, and equipment data files as PDF files onto a server or CD)
budget and purchase newer, smaller, tools and test equipment. Actually saving un-used space saves more money than newer test equipment.
consider obtaining a shop credit card for parts purchases. It removes storage and upkeep for bench stock and common stock parts replacement.
Make one piece of furniture serve two purposes. For example, a lateral file cabinet can hold your copier or printer on top and files inside.
If you are constantly pulling the phone off your desk (and want to save even more space), attach your phone to the wall or purchase a headset to give you the flexibility to reach information or supplies you may need while you're talking to customers.
Loose the note-boards or bulletin boards. Instead utilize MS Office calender to track important agendas and send out employee reminders.
If you haven't upgraded to LCDs you should because these save more space than the old CRT displays. Want even higher technologyand space saving dollars consider Handhelds (pda) instead of desktop computers.
Reference
Link
Ad blocker interference detected!
Wikia is a free-to-use site that makes money from advertising. We have a modified experience for viewers using ad blockers

Wikia is not accessible if you've made further modifications. Remove the custom ad blocker rule(s) and the page will load as expected.