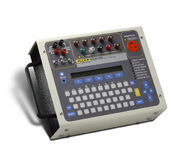 About
An electrical-safety testers are testing devices used in performing safety tests and performance verification on medical equipment. Mostly, these multifaceted devices performs primary electrical safety tests, including mains voltage, protective earth resistance, insulation resistance, device current, earth, chassis, and patient leakages, lead-to-lead leakage, generates simulated performance waves used in defibrillator testing as well as several additional tests. Lastly, technicians can store, print data, or possibly transfer it to an automated computerized maintenance management system for archival.
Products
ESA620 - Fluke
5000C - DNI Nevada
SA-2000 - BC Group (Handheld)
DALE601 - BC Biomedical (Handheld)
LKG 610 - Netech (Handheld)
Reference
Link
Ad blocker interference detected!
Wikia is a free-to-use site that makes money from advertising. We have a modified experience for viewers using ad blockers

Wikia is not accessible if you've made further modifications. Remove the custom ad blocker rule(s) and the page will load as expected.