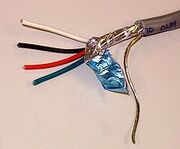 About
A shielded twisted pair is an electrical or CAT5 cable of one or more insulated conductors enclosed by a common conductive layer. The shield may be composed of braided strands of copper (or other metal), a non-braided spiral winding of copper tape, or a layer of conducting polymer. Usually, this shield is covered with a jacket. The shield acts as a Faraday cage to reduce electrical noise from affecting the signals, and to reduce electromagnetic radiation that may interfere with other devices. The shield minimizes capacitively coupled noise from other electrical sources.
In shielded signal cables the shield may act as the return path for the signal, or may act as screening only.
High voltage power cables with solid insulation are shielded to protect the cable insulation and also people and equipment.
Links
Ad blocker interference detected!
Wikia is a free-to-use site that makes money from advertising. We have a modified experience for viewers using ad blockers

Wikia is not accessible if you've made further modifications. Remove the custom ad blocker rule(s) and the page will load as expected.