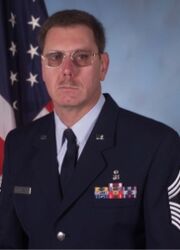 About
In August 2003, CMSgt Rick Koleszar assumed the mantle. He focused on contingency operations, preparing BMETs for wartime, including deployable Computed Tomography training, allowing BMETs to support Operations ENDURING FREEDOM and IRAQI FREEDOM. He also paved the way for local national BMET training in Afghanistan. Prior to serving as CFM, he served in various positions, including as an instructor in both the Basic and Advanced X-ray courses.
References
Links
Ad blocker interference detected!
Wikia is a free-to-use site that makes money from advertising. We have a modified experience for viewers using ad blockers

Wikia is not accessible if you've made further modifications. Remove the custom ad blocker rule(s) and the page will load as expected.