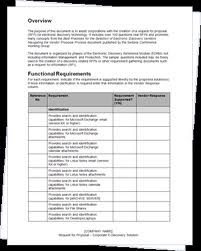 About
A request for proposal (RFP) is issued at an early stage in a procurement process, where an invitation is presented for suppliers, often through a bidding process, to submit a proposal on a specific commodity or service. The RFP process brings structure to the procurement decision and is meant to allow the risks and benefits to be identified clearly upfront.
The RFP may dictate to varying degrees the exact structure and format of the supplier's response. Effective RFPs typically reflect the strategy and short/long-term business objectives, providing detailed insight upon which suppliers will be able to offer a matching perspective.
Similar requests include a request for quotation and a request for information.
In principle, a RFP
informs suppliers that an organization is looking to procure and encourages them to make their best effort.
requires the company to specify what it proposes to purchase. If the requirements analysis has been prepared properly, it can be incorporated quite easily into the Request document.
alerts suppliers that the selection process is competitive.
allows for wide distribution and response.
ensures that suppliers respond factually to the identified requirements.
is generally expected to follow a structured evaluation and selection procedure, so that an organization can demonstrate impartiality - a crucial factor in public sector procurements
In the military, a different name is given to these types of request. For example, in the Air Force these are called (601 packages) and in the Army they are called (C-packets). So no matter the verbiage, the overall principle remains the same and that is to procure new equipment within any hospital.
References
Links
See also
Ad blocker interference detected!
Wikia is a free-to-use site that makes money from advertising. We have a modified experience for viewers using ad blockers

Wikia is not accessible if you've made further modifications. Remove the custom ad blocker rule(s) and the page will load as expected.