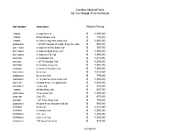 About
Repair Part [spare part, service part, or replacement part] Consumable bits and pieces, that is, individual parts or non-repairable assemblies, required for the repair of spare parts or major end items.[1] These interchangeable consumable repair parts are kept in a benchstock inventory and used for the repair or replacement of a failed part or component. Repair parts are an important feature of biomedical equipment management and supply chain management, often comprising dedicated benchstock and common stock parts management systems.
References
↑ Military Definitions. http://www.fas.org/news/reference/lexicon/mildef.htm
Links
Ad blocker interference detected!
Wikia is a free-to-use site that makes money from advertising. We have a modified experience for viewers using ad blockers

Wikia is not accessible if you've made further modifications. Remove the custom ad blocker rule(s) and the page will load as expected.