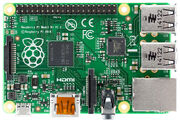 About
The Raspberry Pi is a series of credit card–sized single-board computers developed in the United Kingdom by the Raspberry Pi Foundation with the intent to promote the teaching of basic computer science in schools and developing countries.[6][7][8] The original Raspberry Pi and Raspberry Pi 2 are manufactured in several board configurations through licensed manufacturing agreements with Newark element14 (Premier Farnell), RS Components and Egoman.[9] The hardware is the same across all manufacturers.
Several generations of Raspberry Pi's have been released. The first generation (Pi 1) was released in February 2012 in basic model A and a higher specification model B. A+ and B+ models were released a year later. Raspberry Pi 2 model B was released in February 2015 and Raspberry Pi 3 model B in February 2016. These boards are priced between US$20 and US$35. A cut down compute model was released in April 2014 and a Pi Zero with smaller footprint and limited IO (GPIO) capabilities released in November 2015 for US$5.
All models feature a Broadcom system on a chip (SOC) which include an ARM compatible CPU and an on chip graphics processing unit GPU (a VideoCore IV). CPU speed range from 700 MHz to 1.2 GHz for the Pi 3 and on board memory range from 256 MB to 1 GB RAM. Secure Digital SD cards are used to store the operating system and program memory in either the SDHC or MicroSDHC sizes. Most boards have between one and four USB slots, HDMI and composite video output, and a 3.5 mm phono jack for audio. Lower level output is provided by a number of GPIO pins which support common protocols like I2C. Some models have an RJ45 Ethernet port and the Pi 3 has on board WiFi 802.11n and Bluetooth.
The Foundation provides Debian and Arch Linux ARM distributions for download,[10] and promotes Python as the main programming language, with support for BBC BASIC[11] (via the RISC OS image or the Brandy Basic clone for Linux),[12] C, C++, Java,[13] Perl, Ruby,[14] Squeak Smalltalk and more also available.
In February 2016, the Raspberry Pi Foundation announced that they had sold eight million devices, making it the best selling UK personal computer, ahead of the Amstrad PCW.
References
Links
Video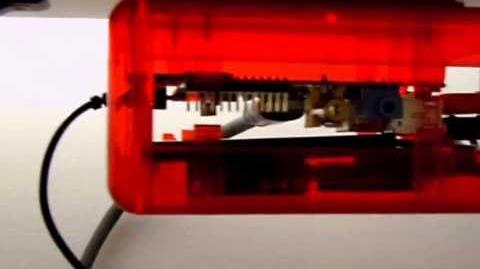 Ad blocker interference detected!
Wikia is a free-to-use site that makes money from advertising. We have a modified experience for viewers using ad blockers

Wikia is not accessible if you've made further modifications. Remove the custom ad blocker rule(s) and the page will load as expected.