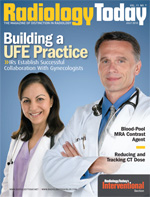 About
A radiology facility is a busy place. Whether you're a technologist, a physician, or part of the management team, you're busy doing your part to keep things running—often while the department or facility is understaffed. Given your hectic schedule, how can you keep up with the fast-changing world of radiology?
That's where Radiology Today can help. In our lively, quick-read magazine format, we cover day-to-day and strategic issues that affect your department or facility. We add a broad range of research, technology, and clinical articles and mix in relevant education, legal, and government news that affect your career in radiology. In addition Radiology Today is endorsed by the New Jersey Society of Radiologic Technologists.
Contact
Radiology Today
3801 Schuylkill Road
Spring City, PA 19475-1529
Phone 800-278-4400 or 610-948-9500
Fax 610-948-4202

Website
Ad blocker interference detected!
Wikia is a free-to-use site that makes money from advertising. We have a modified experience for viewers using ad blockers

Wikia is not accessible if you've made further modifications. Remove the custom ad blocker rule(s) and the page will load as expected.