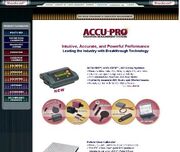 About
"Radcal has continued to design and manufacture affordable, industry leading radiation measuring systems for dose and non-invasive kV including our latest system, the Accu-Pro Multipurpose Analyzer, for simultaneous measurement of dose, dose rate, kV, exposure time, HVL, mA, mAs and more…"[1]
Products
Contact
Radcal Corporation
426 West Duarte Road
Monrovia, CA 91016
Phone: (626) 357-7921 Fax: (626) 357-8863

Links
References
Ad blocker interference detected!
Wikia is a free-to-use site that makes money from advertising. We have a modified experience for viewers using ad blockers

Wikia is not accessible if you've made further modifications. Remove the custom ad blocker rule(s) and the page will load as expected.