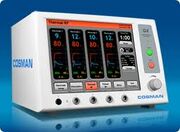 About
"Radiofrequency ablation or lesioning is a term used when radio waves are used to produce heat to destroy tissue, usually a nerve. It has been used for several years with great success in patients who have abnormally fast heartbeats. More recently, it is being used to destroy tumors. It is a non-surgical option to treat your spine pain.
In the case of spinal pain, radiofrequency waves are transmitted through a needle placed into the facet joint under x-ray guidance. This procedure is also known as rhizotomy."[1]
Manufactures
Products
Links
References
Ad blocker interference detected!
Wikia is a free-to-use site that makes money from advertising. We have a modified experience for viewers using ad blockers

Wikia is not accessible if you've made further modifications. Remove the custom ad blocker rule(s) and the page will load as expected.