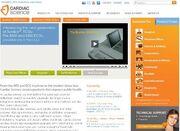 About
Quinton is the world-leader in Cardiac Rehabilitation management systems. Created in the 1980s to improve the survival rate of post-event cardiac patients, cardiac rehabilitation's goal is to help patients transition to near activity levels. The Quinton Q-Tel system, invented in the 1980s, monitors multiple patients throughout their cardiac rehabilitation prescription. Our latest version, Q-Tel RMS monitors up to 12 patients and provides full-spectrum rehab program management capability.
Originally founded in the early 1960s, Quinton devices continue to provide high quality, accurate results for hospitals and clinics worldwide."[1]
Today, its called Cardiac Science.
Contact
3303 Monte Villa Parkway
Bothell, WA 98021 USA
Phone: +1.425.402.2000
Toll Free (US only): +1.800.426.0337
Email: care@cardiacscience.com
Second Parts
Second Sources
Link
References
↑ Cardiac Science. About Cardiac Science. 2011. http://www.quinton.com/about/default.htm
See also
Cardiac Science
Ad blocker interference detected!
Wikia is a free-to-use site that makes money from advertising. We have a modified experience for viewers using ad blockers

Wikia is not accessible if you've made further modifications. Remove the custom ad blocker rule(s) and the page will load as expected.