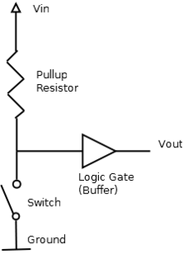 About
Pull-up resistors are used in electronic logic circuits to ensure that inputs to logic systems settle at expected logic levels if external devices are disconnected or high-impedance. They may also be used at the interface between two different types of logic devices, possibly operating at different power supply voltages. When the switch is open the voltage of the gate input is pulled up to the level of Vin. When the switch is closed, the input voltage at the gate goes to ground.
A pull-up resistor weakly "pulls" the voltage of the wire it is connected to towards its voltage source level when the other components on the line are inactive. When all other connections on the line are inactive, they are high-impedance and act like they are disconnected. Since the other components act as though they are disconnected, the circuit acts as though it is disconnected, and the pull-up resistor brings the wire up to the high logic level. When another component on the line goes active, it will override the high logic level set by the pull-up resistor. The pull-up resistor assures that the wire is at a defined or set logic level even if no active devices are connected to it and prevents it from floating and/or oscillating between Vin and ground.
A pull-down resistor works in the same way but is connected to ground. It holds the logic signal near zero volts when no other active device is connected.[1]
Reference
↑ Arduino. "Pull up and pull down resistor." Accessdate: 1/2/16. http://playground.arduino.cc/CommonTopics/PullUpDownResistor
Links
See also
Ad blocker interference detected!
Wikia is a free-to-use site that makes money from advertising. We have a modified experience for viewers using ad blockers

Wikia is not accessible if you've made further modifications. Remove the custom ad blocker rule(s) and the page will load as expected.