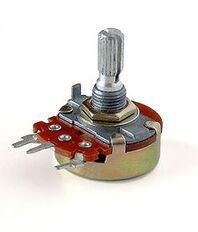 About
A potentiometer (known as a "pot") is a three-terminal resistor with a sliding contact that forms an adjustable voltage divider. If only two terminals are used (one side and the wiper), it acts as a variable resistor or rheostat. Potentiometers are commonly used to control electrical devices such as volume controls on audio equipment. Potentiometers operated by a mechanism can be used as position transducers, for example, in a joystick.
Potentiometers are rarely used to directly control significant power (more than a watt), since the power dissipated in the potentiometer would be comparable to the power in the controlled load (see infinite switch). Instead they are used to adjust the level of analog signals (e.g. volume controls on audio equipment), and as control inputs for electronic circuits. For example, a light dimmer uses a potentiometer to control the switching of a TRIAC and so indirectly control the brightness of lamps.
References
Links
See also
Video
thumb|300px|right|Potentiometers - How They Work, Disassembly and Exploration
Ad blocker interference detected!
Wikia is a free-to-use site that makes money from advertising. We have a modified experience for viewers using ad blockers

Wikia is not accessible if you've made further modifications. Remove the custom ad blocker rule(s) and the page will load as expected.