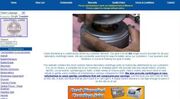 About
"Since its inception, Ozark Biomedical has been driven by the customers' demand for one company to turn to with all their centrifuge needs. While our goal still continues to be that "One Stop Source" for centrifuge parts, we are constantly looking for ways to better serve our customers.
This website features the most common centrifuge parts used by our customers. We provide inventory stock for all common failure parts, free technical support, and service for these units. Ozark Biomedical also provides reconditioned units as an alternative to purchasing new units. This means significant savings passed on to you or your customer.
We still provide new and rebuilt motors, brushes, and parts, for many of today's centrifuges. Many manufacturers warranty their parts ONLY if an OEM Service Technician installs the part. Our exchange motors and latches come with a full 90-day warranty, and all reconditioned control boards and new parts come with a 30-day warranty. This is just something to consider the next time you need a part for your centrifuge.
Ozark Biomedical is committed to providing quality parts and service to our customers. We hope that you will give us an opportunity to serve you the next time you need parts for your centrifuge."[1]
Contact
References
Link