About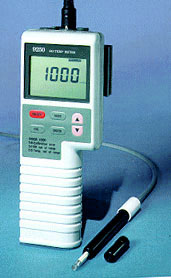 Dissolved Oxygen Monitor is a measure of the free oxygen dissolved in water. It is an indicator of water quality. The amount of oxygen that can be held by the water depends on the water temperature, salinity, and pressure. Gas solubility increases with decreasing temperature (colder water holds more oxygen). Gas solubility increases with decreasing salinity (freshwater holds more oxygen than does saltwater). Both the partial pressure and the degree of saturation of oxygen will change with altitude . Finally, gas solubility decreases as pressure decreases. Thus, the amount of oxygen absorbed in water decreases as altitude increases because of the decrease in relative pressure.
Manufacturers
Jenco
Models
92-50
Second Source Parts
Second Source Service
References
Video
Ad blocker interference detected!
Wikia is a free-to-use site that makes money from advertising. We have a modified experience for viewers using ad blockers

Wikia is not accessible if you've made further modifications. Remove the custom ad blocker rule(s) and the page will load as expected.