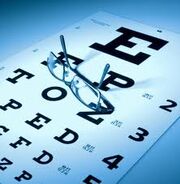 About
Optometry is a health care profession concerned with eyes and related structures, as well as vision, visual systems, and vision information processing in humans.
Like most professions, optometry education, certification, and practice is regulated in most countries. Optometrists and optometry-related organizations interact with governmental agencies, other health care professionals, and the community to deliver eye and vision care. Optometry is one of four eye care professions, the others being Ophthalmology (which is a branch of surgery) Opticians and Orthopedics (a sub-specialty of ophthalmology primarily dealing with strabismus).
Links
Ad blocker interference detected!
Wikia is a free-to-use site that makes money from advertising. We have a modified experience for viewers using ad blockers

Wikia is not accessible if you've made further modifications. Remove the custom ad blocker rule(s) and the page will load as expected.