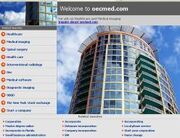 About
Incorporated: 1942 as Orthopedic Equipment Company (OEC)
GE Acquisition In August, 1999, the company announced that it had signed a definitive agreement for OEC to merge its operations with GE Medical, Milwaukee. The transaction is subject to OEC shareholder approval, government approval and other customary conditions, but is expected to close around year-end. The boards of directors of both GE and OEC have approved the merger.
Contact
Links
References
Ad blocker interference detected!
Wikia is a free-to-use site that makes money from advertising. We have a modified experience for viewers using ad blockers

Wikia is not accessible if you've made further modifications. Remove the custom ad blocker rule(s) and the page will load as expected.