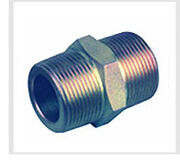 A Pipe Nipple is a short pipe (12 inches or less), with small opening which provides way for the liquids or gases to pass through the pipe. It has a male thread on each end and is used for extension from a fitting.
Some of the popular usages of Pipe Nipple are :
Used in fluid application to connect two FPT fittings. Used in plumbing system or for ceiling and wall supports and extensions. Used for ceiling or wall supports Used to extend shower riser.
Ad blocker interference detected!
Wikia is a free-to-use site that makes money from advertising. We have a modified experience for viewers using ad blockers

Wikia is not accessible if you've made further modifications. Remove the custom ad blocker rule(s) and the page will load as expected.