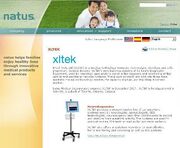 About
Natus Medical Inc, also is a division of "Excel-Tech, Ltd (XLTEK) is a medical technology company that designs, develops and sells proprietary medical devices. XLTEK's core business consists of its Neuro Diagnostic Equipment, used by neurology specialists to assist in the diagnosis and monitoring of the central and peripheral nervous systems. These core products are sold into three main markets: the neurophysiology market, the epilepsy market, and the sleep disorders market."[1]
XLTEK is on the list of Companies That Charge for Technical Support.
Contact
Excel-Tech Ltd, a division of Natus Medical Inc
Corporate Headquarters
2568 Bristol Circle
Oakville, ON L6H 5S1
Canada

Phone: +1 (905) 829-5300
+1 (800) 387-7516 (Toll Free)
Fax: +1 (905) 829-5304

Links
References
Ad blocker interference detected!
Wikia is a free-to-use site that makes money from advertising. We have a modified experience for viewers using ad blockers

Wikia is not accessible if you've made further modifications. Remove the custom ad blocker rule(s) and the page will load as expected.