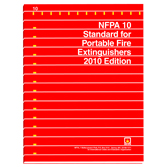 About
National Fire Protection Association (NFPA )10: Standard for Portable Fire Extinguishers, 2010 Edition for portable fire extinguishers are an important first line of defense against small fires. For the best protection, be sure to select, use, and maintain extinguishers using the latest recommended standards as presented in the 2010 NFPA 10: Standard for Portable Fire Extinguishers.
Chapters
The NFPA 2010 ed. has 8 chapters.
Chapter 1 Administration
1.1 Scope
1.2 Purpose
1.3 Units
Chapter 2 Referenced Publications
2.1 General
2.2 NFPA Publications
2.3 Other Publications
2.4 References for Extracts in Mandatory Sections
Chapter 3 Definitions
3.1 General
3.2 NFPA Official Definitions
3.3 General Definitions
3.4 Fire Extinguisher Definitions
Chapter 4 General Requirements
4.1 Listing and Labeling
4.2 Identification of Contents
4.3 Instruction Manual
4.4 Obsolete Fire Extinguishers
Chapter 5 Selection of Portable Fire Extinguishers
5.1 General Requirements
5.2 Classifications of Fires
5.3 Extinguisher Classification System
5.4 Classification of Hazards
5.5 Selection for Specific Hazards
5.6 Selection for Specific Locations
Chapter 6 Installation of Portable Fire Extinguishers
6.1 General
6.2 Installations for Class A Hazards
6.3 Installations for Class B Hazards
6.4 Installations for Class C Hazards
6.5 Installations for Class D Hazards
6.6 Installations for Class K Hazards
Chapter 7 Inspection, Maintenance, and Recharging of Portable Fire Extinguishers
7.1 General
7.2 Inspection
7.3 Maintenance
7.4 Recharging
Chapter 8 Hydrostatic Testing
8.1 General
8.2 Test Equipment
8.3 Frequency
8.4 Extinguisher Examination
8.5 Testing Procedures
8.6 Test Pressures
8.7 Recording of Hydrostatic Tests
8.8 Condemning Extinguishers
Annex A Explanatory Material
Annex B Recommended Markings to Indicate Extinguisher Suitability According to Class of Fire
Annex C Fire Extinguisher Selection
Annex D Operation and Use
Annex E Distribution
Annex F Selection of Residential Fire-Extinguishing Equipment
Annex G Extinguisher Classification and Rating System
Annex H Conditions of Selection
Annex I Maintenance Procedures
Annex J Typical Specification of Equipment Capable of Producing Dry Air
Annex K Informational References
References
Links
Ad blocker interference detected!
Wikia is a free-to-use site that makes money from advertising. We have a modified experience for viewers using ad blockers

Wikia is not accessible if you've made further modifications. Remove the custom ad blocker rule(s) and the page will load as expected.