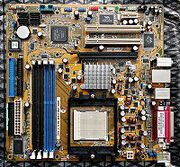 About
A motherboard is the central printed circuit board (PCB) in some complex electronic systems, such as modern personal computers. The motherboard is sometimes alternatively known as the mainboard, system board, or, on Apple computers, the logic board.
Manufacturers
Asus
EVGA
Suppliers
Tiger direct
References
Video
Ad blocker interference detected!
Wikia is a free-to-use site that makes money from advertising. We have a modified experience for viewers using ad blockers

Wikia is not accessible if you've made further modifications. Remove the custom ad blocker rule(s) and the page will load as expected.