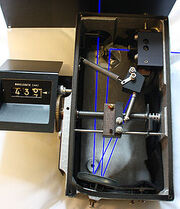 A monochromator is an optical device that transmits a mechanically selectable narrow band of wavelengths of light or other radiation chosen from a wider range of wavelengths available at the input. The name is from the Greek roots mono-, single, and chroma, color, and the Latin suffix -ator, denoting an agent. Basically, its a device that separates light (e.g. acts like a prism).
Manufacturers
Oriel Instruments
Models
78005
78021
78027

Second Source Parts
Second Source Service
References
Ad blocker interference detected!
Wikia is a free-to-use site that makes money from advertising. We have a modified experience for viewers using ad blockers

Wikia is not accessible if you've made further modifications. Remove the custom ad blocker rule(s) and the page will load as expected.