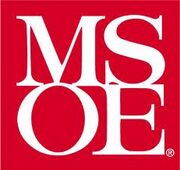 About
"Milwaukee School of Engineering is a private, coeducational nonsectarian university located in a metropolitan center. It provides a balanced education -- undergraduate and graduate -- for men and women in the disciplines of engineering, engineering technology, business, communication, construction management, medical informatics, nursing and perfusion." [1]
Staff
Dr. Samantha Richerson, Assistant Professor, Program Director, Biomedical Eng
Larry Fennigkoh, Professor
Links
Refernces
Ad blocker interference detected!
Wikia is a free-to-use site that makes money from advertising. We have a modified experience for viewers using ad blockers

Wikia is not accessible if you've made further modifications. Remove the custom ad blocker rule(s) and the page will load as expected.