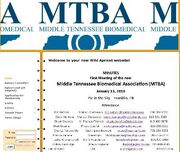 About
The Middle Tennessee Biomedical Association Inc (MTBA) is the information source for individuals interested in biomedical engineering and technology that spans from southern Kentucky to northern Alabama. Now known officially and legally as the Middle Tennessee Biomedical Association Inc, its bylaws state its goal is to advance the development of personnel involved in the selection, operation, repair, and support of biomedical instrumentation in health care institutions.
Events
Links
Ad blocker interference detected!
Wikia is a free-to-use site that makes money from advertising. We have a modified experience for viewers using ad blockers

Wikia is not accessible if you've made further modifications. Remove the custom ad blocker rule(s) and the page will load as expected.