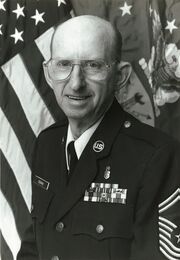 About
In 1984, CMSgt Melton "Red" Newman, one of the original BMETs, became the first BMET Career Field Manager (CFM). He laid the strategic groundwork for the entire career field, including creating the Medical Equipment Repair Center (MERC) concept. Prior to serving as CFM, he served as the BMET Course Supervisor at the Air Force School of Health Care Sciences.
References
Links
Ad blocker interference detected!
Wikia is a free-to-use site that makes money from advertising. We have a modified experience for viewers using ad blockers

Wikia is not accessible if you've made further modifications. Remove the custom ad blocker rule(s) and the page will load as expected.