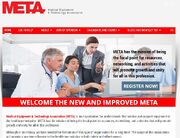 About
Medical Equipment & Technology Association (META) is an organization for professionals that service and support equipment in the healthcare industry. META has the mission of being the focal point for resources, networking, and activities that will promote growth and unity for all in this profession.
Although in its infancy, we have needed the formation of this type of organization for a long time! The scope of this association will provide a positive influence to the healthcare industry in both safety and effectiveness.
Membership will afford an exciting opportunity to shape META's direction and the direction of this field of service. It is your chance to take charge of what your profession will become and how it will evolve. Join and get involved in your future today!"[1]
"Biomed" - Title Search Completed
After conducting an extensive survey of those in the medical equipment and technology service/support field, we would like to announce that Biomed was selected by an overwhelming majority as a standardized title for our profession.
META will use Biomed as its official designation for those professionals in the medical equipment and technology service/support field. This will help to eliminate the confusion of different professional titles used by so many in the field and increase our profession's exposure to the public, helping to drive interest in the field and generate future growth.
Contact
References
Links
Ad blocker interference detected!
Wikia is a free-to-use site that makes money from advertising. We have a modified experience for viewers using ad blockers

Wikia is not accessible if you've made further modifications. Remove the custom ad blocker rule(s) and the page will load as expected.