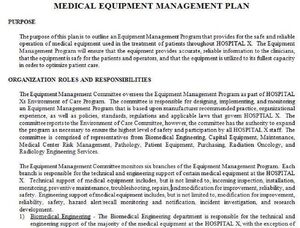 About
Medical Equipment Management Plan is a living document that hospitals have as a written plan that describes the processes for managing the effective, safe, and reliable operation of medical equipment. The plan should provide an overview of how the equipment is managed at the hospital, not simply a recitation of the medical equipment standards. It should also be a link between the Joint Commissions medical equipment-related standards and the function of managing medical equipment within the hospital. Applicable hospital policies, procedures, and standards should be referenced in the management plan.
The plan should be tailored to the type of organization (hospital, ambulatory, long-term care, etc, or multiple settings like hospital and ambulatory), the patient services provided (dialysis, nuclear medicine, surgery, etc), and the medical technology used (lasers, dialysis units, MRIs, etc). It should describe how each Element of Performance that is relevant to the medical equipment and how the requirements in other standards are linked to the medical equipment program (e.g. IC.4.10, LD.4.10, and HR.2.20 and how does the clinical engineering shop carry out these duties). The management plan is the "how we do daily business" so our organization is within compliance of governmental, state, and local standards. This plan is one of seven documents reviewed by Joint Commission surveyors.[1] The overall office of primary responsibilities falls under facilities management.
Elements of Performance
In 2007, EC.6.10 had eight elements of performance (EP)to include:
Selection and Acquisition of Medical Equipment (EC.6.10, EP 2)
Inclusion of Risk Criteria (EC.6.10, EP 3)
Maintenance Strategies (EC.6.10, EP 4)
Scheduled Maintenance Intervals (EC.6.10, EP 5)
Hazard Notices and Recalls
Monitoring Safe Medical Devices Act (SMDA) of 1990 (EC.6.10, EP 7)
Emergency Procedures [2](EC.6.10, EP 8)
Other Medical Equipment Maintenance, Testing, and Inspection criteria include:
Maintenance of Life Support Equipment (schedule compliance goal is 100%)
Maintenance of Non-Life Support Equipment (schedule compliance goal is 95%
Testing of Sterilizers
Testing Water Used in Renal Dialysis[3]
References
↑ American Society for Healthcare Engineering. "Joint Commission Standards and the Survey Process." aceessdate 2011. [1]
↑ Arif Subhan. "JCAHO" 24x7. Jan 2007. http://www.24x7mag.com/issues/articles/2007-01_05.asp
Links
Comprehensive Accreditation Manual for Hospitals: The Official Handbook (CAMH)
See also
Ad blocker interference detected!
Wikia is a free-to-use site that makes money from advertising. We have a modified experience for viewers using ad blockers

Wikia is not accessible if you've made further modifications. Remove the custom ad blocker rule(s) and the page will load as expected.