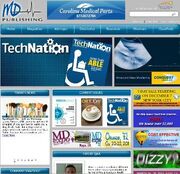 About
For more than 10 years , MD Publishing has made a major impact on the medical and surgical equipment marketplace. By providing an online source for dealers and manufacturers of the full spectrum of medical equipment and supplies, MD Publishing has created a centralizing home site for the industry. Md Expo Logo MD Publishing's annual MD Expo has become an industry event that is second to none for it's targeted successes in bringing dealers and buyers together in an atmosphere of mutual growth and excitement for the future.
The Medical Dealer magazine is the official marketplace resource for buyers, sellers and services of medical equipment - including new, refurbished, and re-manufactured systems and parts.
In each monthly issue you will see:
New Product Profiles
Informative Corporate Profiles
Investigative Feature Stories
Insightful Columns
OEM News Briefs
Classifieds
Repair, service and tech tips.
Info on over 200 companies
Buyers, sellers, manufacturers and new product developers will all find The Medical Dealer to be an excellent all-in-one industry resource.
Contact
18 Eastbrook Bend
Peachtree City, GA 30269
800.906.3373
770.632.9040
Fax 770.632.9090
Reference
Links
Ad blocker interference detected!
Wikia is a free-to-use site that makes money from advertising. We have a modified experience for viewers using ad blockers

Wikia is not accessible if you've made further modifications. Remove the custom ad blocker rule(s) and the page will load as expected.