About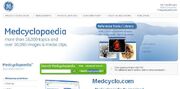 Sponsored by GE Medical. "The site serves as an invaluable source of information for clinicians, radiographers (technicians), pharmacists, nurses, physiotherapists, and other paramedical health care professionals. It is also a useful reference work for medical physicists, hospital managers, medical suppliers and medical publishers. For the specialist it gives an update in areas outside his/her focus of experience. Medcyclopaedia.com is not only unique with regard to content. As a professional edition user you can benefit from very advanced search features taking you quickly to the target."[1]
Website
References
Ad blocker interference detected!
Wikia is a free-to-use site that makes money from advertising. We have a modified experience for viewers using ad blockers

Wikia is not accessible if you've made further modifications. Remove the custom ad blocker rule(s) and the page will load as expected.