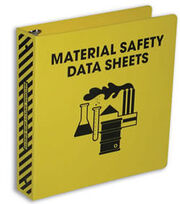 About
A Material Safety Data Sheet (MSDS) is a document containing the data required by, and prepared in accordance with, FED STD 313 to communicate to the user of the chemical, physical and hazardous properties of material. [1]
References
↑ AFI 41-209: MEDICAL LOGISTICS SUPPORT. http://static.e-publishing.af.mil/production/1/af_sg/publication/afi41-209/afi41-209.pdf
Links
Ad blocker interference detected!
Wikia is a free-to-use site that makes money from advertising. We have a modified experience for viewers using ad blockers

Wikia is not accessible if you've made further modifications. Remove the custom ad blocker rule(s) and the page will load as expected.