Managed Medical Imaging (MMI) is a medical imaging equipment (X-Ray, CT, MRI, CR, DR) service company serving Florida and Georgia. MMI offers medical imaging equipment sales and services to clients throughout Miami, Fort Lauderdale, Jacksonville, Tampa, Orlando and surrounding Florida areas an in the Greater Atlanta, Georgia area and throughout Georgia. We sell advanced medical imaging equipment nationwide and provide maintenance services on medical imaging systems to hospitals, medical centers and related medical facilities throughout Florida and Georgia. Our clients rely on Managed Medical Imaging to provide quality sales and maintenance services on their MRI, CT, CR, DR, X-Ray, Nuclear Camera, PET, PET-CT, Ultrasound and other advanced medical imaging systems. For a complete list of our services,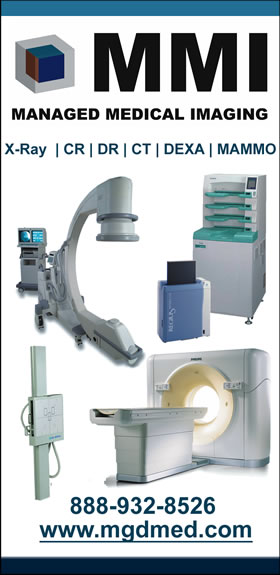 Our clients include medical facilities offering medical and diagnostic imaging services including:
Computed Radiography (Fuji CR, Agfa CR, Kodak CR)
CT
MRI
X-Ray (Rad/Fluoro Rooms, C-Arms, AMX-4)
Bone Densitometry
Mammography with computer aided detection
PACS-filmless viewing

NAICS: 423450 (Primary), 811219
SIC Codes:
5063-70 Ultrasonic Equipment & Supplies
8734-41 Ultrasonic Inspection Service
7699-71 X-Ray Apparatus-Repairing
8734-05 X-Ray Inspection Service
8049-29 Medical Diagnostic Equipment-Mobile
5047-31 Medical Electronics
7352-06 Medical Equipment-Rentals
7699-63 Medical Equipment-Repairing
8099-12 Medical Information Services
Ad blocker interference detected!
Wikia is a free-to-use site that makes money from advertising. We have a modified experience for viewers using ad blockers

Wikia is not accessible if you've made further modifications. Remove the custom ad blocker rule(s) and the page will load as expected.