About this wiki | New pages | Categories | Wiki tutorial | Help pages
Article of the Month
Signal generators, [also known as function generators, RF and microwave signal generators, pitch generators, arbitrary waveform generators, digital pattern generators or frequency generators] are electronic devices that produces simple repetitive digital or analog waveforms.. They are generally used in designing, testing, troubleshooting, and repairing electronic or electro-acoustic devices; though they often have artistic uses as well as designing cool waveforms.
Such devices contain an electronic oscillator, a circuit that is capable of creating a repetitive waveform. (Modern devices may use digital signal processing to synthesize waveforms, followed by a digital to analog converter, or DAC, to produce an analog output). The most common waveform is a sine wave, but sawtooth, step (pulse), square, and triangular waveform oscillators are commonly available for medical ECG testing. If the oscillator operates above the audio frequency range (>20 kHz), the generator will often include some sort of modulation function such as amplitude modulation (AM), frequency modulation (FM), or phase modulation (PM) as well as a second oscillator that provides an audio frequency modulation waveform.
Video of the Month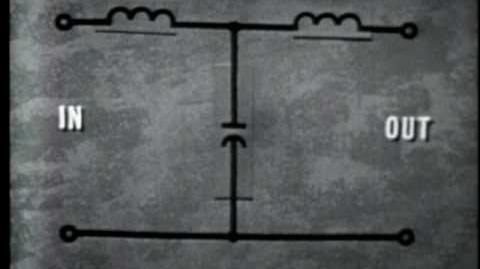 Electrical filters are like mechanical filters. They are used to remove crud from signals. A mechanical filter - like the fuel filter or oil filter in your car - might be built from a membrane that allows the fluid to flow through, but restricts the flow of contaminants that are particles. Electrical filters can accomplish the same thing - removal of contaminating signals - but the physical actions are different. In electrical filters, we take advantage of the filter's different responses at different frequencies, and the fact that many signals that are corrupted by noise have a signal and noise that have different frequency content. For example, a low frequency signal corrupted by high frequency noise can often be "cleaned up" with a low-pass filter.
Filters come with different features. For example, the low-pass filter mentioned above is an example of a filter that preferentially passes low frequency signals and does not pass higher frequency signals as well. Other kinds of filters can include at least the following.
High-pass filters - that preferentially pass high frequency signals.
Band-pass filters - that preferentially pass signals with a strong frequency component within a band of frequencies.
Band-reject filters - that preferentially reject signals in a certain frequency band.
Association of the Month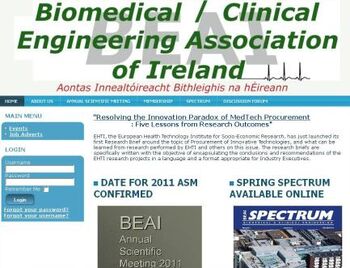 Biomedical and Clinical Engineering Association of Ireland (Biomedical & Clinical Engineering Association of Ireland (BEAI) - was set up in 1992 in response to the demands of the growing number of technicians working on electromedical equipment in the public sector. Various sub-committees have been formed to investigate education, publications, training, and professional restructuring. Much has been achieved since the inauguration of the BEAI, including the development of a professional profile and opportunities for further education and training.
Log in | Signup for new account
Statistics
1,702 articles since 2008.
17,379 edits made.
1,702 images uploaded.
14,609,872 users joined.
Helping Out
To write a new article, just enter the title in the box below.
Not sure where to start?
Ad blocker interference detected!
Wikia is a free-to-use site that makes money from advertising. We have a modified experience for viewers using ad blockers

Wikia is not accessible if you've made further modifications. Remove the custom ad blocker rule(s) and the page will load as expected.