Ad blocker interference detected!
Wikia is a free-to-use site that makes money from advertising. We have a modified experience for viewers using ad blockers

Wikia is not accessible if you've made further modifications. Remove the custom ad blocker rule(s) and the page will load as expected.
About this wiki | New pages | Categories | Wiki tutorial | Help pages
Article of the Month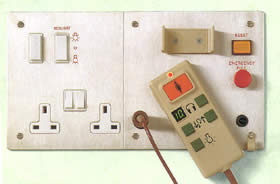 Nurse Call Stations are devices that are intended to meet patient call needs in hospitals, nursing homes, clinics, and outpatient facilities. The system can be hardwired, wireless, or a combination of the two. Typically, the patient activates the bedside pull call button that provides a distinctive signal letting the staff know the patient is in distress or requires assistance. Lastly, a special repeated tone signal reminds nurses that a call remains unanswered at the call station.
Video of the Month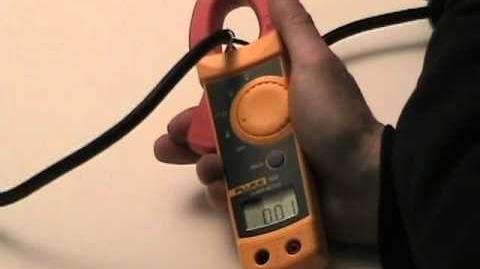 An AC current clamp is known as a clamp meter, clamp-on ammeter or tong tester. A clamp meter measures the vector sum of the currents flowing in all the conductors passing through the probe that depends on the phase relationship of the currents. In electrical and electronic engineering, a current clamp or current probe is an electrical device having two jaws which open to allow clamping around an electrical conductor. This allows properties of the electric current in the conductor to be measured, without having to make physical contact with it, or to disconnect it for insertion through the probe. Current clamps are usually used to read the magnitude of a sinusoidal current (as invariably used in alternating current (AC) power distribution systems), but in conjunction with more advanced instrumentation the phase and waveform are available. Very high alternating currents (1000 A and more) are easily read with an appropriate meter; direct currents, and very low AC currents (milliamperes) are more difficult to measure.
Association of the Month
Mid-America Clinical Engineering Society (MA-CES) has been an integral part of the Clinical Engineering community through its support of the educational needs for the professional membership it serves in middle America. Quarterly meetings provide attendees with camaraderie, clinical and technical education and an opportunity to benchmark different programs from the region in an effort to develop best practices. There are elected positions every two years for President, Vice President, Secretary, Treasurer, Publications Officer, Education Officer and Employment Officer. Any active, paid member has the opportunity to run for election and vote for the leadership of MACES. Leaders can serve up to two terms in a single office.
Log in | Signup for new account
Statistics
1,697 articles since 2008.
17,284 edits have been made.
1,694 images have been uploaded.
10,542,727 users have joined.
Helping Out
To write a new article, just enter the title in the box below.
Not sure where to start?