About this wiki | New pages | Categories | Wiki tutorial | Help pages
Article of the Month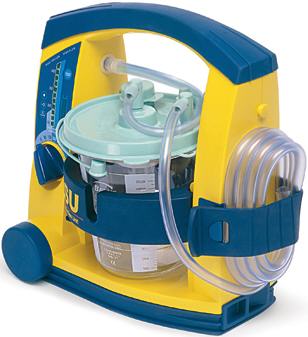 Aspirators are small medical suction machines used to remove mucus and other bodily fluids from a patient. They are often designed to be portable for use in ambulances and nursing homes, and can run on AC/DC or battery power. These pumps used for pumping or moving fluids typically have an inlet where the fluid enters the pump and an outlet where the fluid comes out. The inlet location is said to be at the suction side of the pump. The outlet location is said to be at the discharge side of the pump. Operation of the pump creates suction (a lower pressure) at the suction side so that fluid can enter the pump through the inlet. Pump operation also causes higher pressure at the discharge side by forcing the fluid out at the outlet. There may be pressure sensing devices at the pump's suction and/or discharge sides which control the operation of the pump. For example, if the suction pressure of a centrifugal pump is too low, a device may trigger the pump to shut off to keep it from running dry; i. e. with no fluid entering. Under normal conditions of atmospheric pressure suction can draw pure water up to a maximum height of approximately 10.3 m (33.9 feet). In medicine, suction devices are used to clear airways of materials that would impede breathing or cause infections, to aid in surgery, and for other purposes.
Video of the Month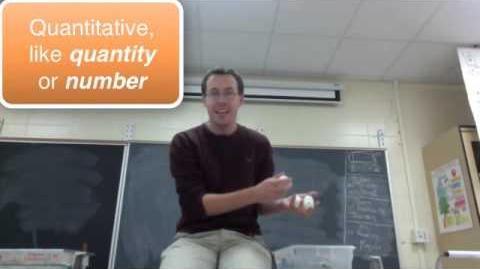 Qualitative Measures (QuM) is data that does not involve numbers or math. Its the quality of something, words, or descriptions (adjectives). Biomeds make observations using our 5 senses (see, taste, touch, hear, smell ...when it is safe). QuM does not use actual test equipment or tools to perform measurements since numerical numbers are not required. Technicians can use prior experience which is a plus. Examples are:
damaged chassis or housing mount
cut in power cord
broken AC plug
blown fuse
more
Quantitative Measure (QaM) is data that involves numbers, measurements, or math. Typically, QaM uses any and all test equipment or tools to include but not limited to an electronic balance, a multimeter, an oscilloscope, a ruler, a chemical beaker, a safety analyzer, etc..
The QaM are numbers and are represented by units of measure such as:
acceleration: centimeter/square second, foot/square second,inch/square second.
flow rate [volume]: liter/minute
radiation: rem, rad, sievert (Sv), roentgen (R)
area: square centimeter, square inch, square mile
volume: Liters, Fluid Ounces, Pints, Quarts, Gallons
temperature: Fahrenheit, Celsius, kelvin
pressure: bar, inch of mercury [0 °C], inch of water [4 °C]
more
Association of the Month
The Oklahoma Association of Healthcare Engineers is commented to bring affordable educational programs to Oklahoma healthcare institutions. Our association with state, federal, and nationally renown organizations provides direction and focus on issues that impact healthcare in our State. This organization was founded in 1970 by healthcare engineers. Our Board of Directors is made up of experienced professionals currently working in healthcare today. They are supported by a Past Presidents Council which provides years of experience in conducting the business of OAHE.
The Oklahoma Association of Healthcare Engineers is a non-profit organization. Our members are employed by Oklahoma Healthcare institutions and those government employees providing direct support to these institutions. Other members include Vendor members providing support services including but not limited to construction, consulting, design and maintenance.
Log in | Signup for new account
Statistics
1,697 articles since 2008.
17,272 edits have been made.
1,694 images have been uploaded.
10,129,456 users have joined.
Helping Out
To write a new article, just enter the title in the box below.
Not sure where to start?