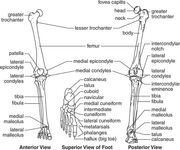 The thigh, leg, and foot constitute the lower limb. The bones of the lower limbs are considerably larger and stronger than comparable bones of the upper limbs because the lower limbs must support the entire weight of the body while walking, running, or jumping. The lower limb consists of the 30 bones.
Video
Ad blocker interference detected!
Wikia is a free-to-use site that makes money from advertising. We have a modified experience for viewers using ad blockers

Wikia is not accessible if you've made further modifications. Remove the custom ad blocker rule(s) and the page will load as expected.