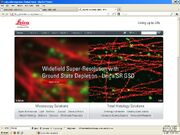 About
Leica Micro-systems is a leading global designer and producer of innovative high-tech precision optics systems for the analysis of micro-structures.
It is one of the market leaders in each of the fields of Microscopy, Confocal Laser Scanning Microscopy, Imaging Systems, Specimen Preparation and Medical Equipment.
The company manufactures a broad range of products for numerous applications requiring microscopic imaging, measurement and analysis. It also offers system solutions in the areas of Life Science including biotechnology and medicine, as well as the science of raw materials and industrial quality assurance.
Comprising nine manufacturing facilities in seven countries, sales and service companies in 20 countries and an international network of dealers, the company is represented in over 100 countries.
The international headquarters are based in Wetzlar, Germany.
Contact
1700 Leider Lane
Buffalo Grove, IL 60089 United States
Phone: +1 800 248 0123
Fax: +1 847 405 0164
Second Parts
Second Sources
Link
Reference