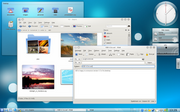 About
KDE (pronounced /ˌkeɪdiːˈiː/) is a free software project based around its flagship product, a desktop environment mainly for Unix-like systems. The goal of the project is to provide basic desktop functions and applications for daily needs as well as tools and documentation for developers to write stand-alone applications for the system. In this regard, the KDE project serves as an umbrella project for many standalone applications and smaller projects that are based on KDE technology. These include KOffice, KDevelop, Amarok, K3b and many others. KDE software is based on the Qt toolkit. The original GPL version of this toolkit only existed for the X11 platform, but with the release of Qt 4, GPL versions are available for all platforms. This allows KDE software based on Qt 4 to also be distributed to Microsoft Windows and Mac OS X. KDE puts emphasis on being more for advanced programmers to use.
Origins
KDE was founded in 1996 by Matthias Ettrich, who was then a student at the Eberhard Karls University of Tübingen. At the time, he was troubled by certain aspects of the Unix desktop. Among his qualms was that none of the applications looked, felt, or worked alike. He proposed the formation of not only a set of applications, but rather a desktop environment, in which users could expect things to look, feel, and work consistently. He also wanted to make this desktop easy to use; one of his complaints with desktop applications of the time was that his girlfriend could not use them. His initial Usenet post spurred a lot of interest, and the KDE project was born.
The name KDE was intended as a word play on the existing Common Desktop Environment, available for Unix systems. CDE was an X11-based user environment jointly developed by HP, IBM, and Sun, through the X/Open Company, with an interface and productivity tools based on the Motif graphical widget toolkit. It was supposed to be an intuitively easy-to-use desktop computer environment. The K was originally suggested to stand for "Kool", but it was quickly decided that the K should stand for nothing in particular. Additionally, one of the tips in certain versions of KDE 3 incorrectly states that the K currently is just meant to be the letter before L in the Latin alphabet, the first letter in the word Linux (which is where KDE is usually run). In 2009 it was decided that KDE should no longer be an acronym at all, the decision comes after the ports to Windows and OS X and popular applications such as Amarok which meant KDE was no longer just a desktop.
Matthias chose to use the Qt toolkit for the KDE project. Other programmers quickly started developing KDE/Qt applications, and by early 1997, a few applications were being released.
Links
Video
Ad blocker interference detected!
Wikia is a free-to-use site that makes money from advertising. We have a modified experience for viewers using ad blockers

Wikia is not accessible if you've made further modifications. Remove the custom ad blocker rule(s) and the page will load as expected.