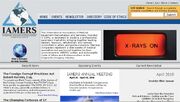 About
International Association of Medical Equipment Re-marketers and Services, founded in 1993, is dedicated to creating a professional, secondary market by bringing together leading dealers, leasers, refreshers and services committed to ethics and professionalism. Member companies represent a wide variety of medical specialties but are bound together by their commitment to IAMERS written and enforceable Code of Ethics.
Contact
Toll Free: 877-304-2637
201-833-2021
Fax: 201-833-2021
E-mail: info@iamers.org
Link
Reference
Ad blocker interference detected!
Wikia is a free-to-use site that makes money from advertising. We have a modified experience for viewers using ad blockers

Wikia is not accessible if you've made further modifications. Remove the custom ad blocker rule(s) and the page will load as expected.