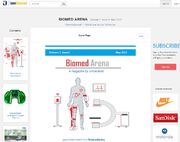 About
Iambiomed.com is a web portal for biomedical engineering and healthcare technology. It is consists of news articles, blogs, documents, notes, study material and information related to biomedical engineering.
Iambiomed.com was started in March 2012 by Aditya Ekawade.
Iambiomed recently launched its first e-magazine "Biomed Arena" in May 2015.
References
Links
Ad blocker interference detected!
Wikia is a free-to-use site that makes money from advertising. We have a modified experience for viewers using ad blockers

Wikia is not accessible if you've made further modifications. Remove the custom ad blocker rule(s) and the page will load as expected.