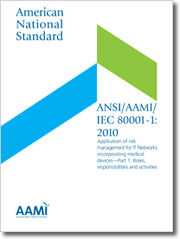 About
"In 2006, the International Electromechanical Commission (IEC) and the International Organization for Standardization (ISO) determined there was a need for a standard to define the requirements of a process for addressing the new problems that might emerge when medical devices are connected to a network. This proposed standard is IEC 80001, Application of risk management for IT-networks incorporating medical devices."[1]
80001-1 Managing Medical IT-Networks
In 2010, 80001-1 specifies general requirements for the application of risk management of IT-networks incorporating medical devices that achieve essential properties such as safety, effectiveness, data & system security and interoperability. It defines responsibilities for parties such as medical device manufacturers, non-medical device manufacturers, the responsible organization, IT-network integrator, and potentially others, engaged in installing, using, reconfiguring, maintaining and decommissioning IT-networks incorporating medical devices. This Standard addresses risks related to patients, operators and/or third parties.
References
Links
Ad blocker interference detected!
Wikia is a free-to-use site that makes money from advertising. We have a modified experience for viewers using ad blockers

Wikia is not accessible if you've made further modifications. Remove the custom ad blocker rule(s) and the page will load as expected.