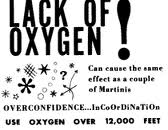 About
Hypoxia is a pathological condition in which the body as a whole (generalized hypoxia) or a region of the body (tissue hypoxia) is deprived of adequate oxygen supply. Variations in arterial oxygen concentrations can be part of the normal physiology, for example, during strenuous physical exercise. A mismatch between oxygen supply and its demand at the cellular level may result in a hypoxic condition. Hypoxia in which there is complete deprivation of oxygen supply is referred to as anoxia.
Hypoxia differs from hypoxemia in that, in the latter, the oxygen concentration within the arterial blood is abnormally low. [1]It is possible to experience hypoxia and have a low oxygen content (e.g., due to anemia) but maintain high oxygen partial pressure (pO2). Incorrect use of these terms can lead to confusion, especially as hypoxemia is among the causes of hypoxia (in hypoxemic hypoxia).
References
↑ West, John B. (1977). Pulmonary Pathophysiology: The Essentials. Williams & Wilkins. pp. 22. ISBN 0683089366.
Links
See also
Ad blocker interference detected!
Wikia is a free-to-use site that makes money from advertising. We have a modified experience for viewers using ad blockers

Wikia is not accessible if you've made further modifications. Remove the custom ad blocker rule(s) and the page will load as expected.